One of the main goals of the earthquake risk project of CEDIM is asses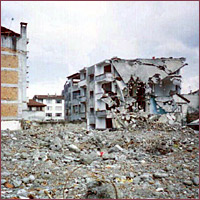 sment and mapping of the risk for all Germany. The first stage of the work is dedicated to analyses of potential direct losses due to structural damage to the existing residential building stock.
The risk is calculated from (1) intensity-based probabilistic seismic hazard, (2) structural vulnerability models constructed for the residential building stock of communities and (3) distribution of assets in terms of replacement costs for residential buildings. In parallel with the probabilistic hazard-map-based approach the deterministic scenario-based approach is used. The developed models are calibrated and validated with the use of observed data from several damaging earthquakes in Germany and the nearby area.
The planned activities include, inter alia, consideration of other probable direct and indirect losses, industrial and public buildings, infrastructure in earthquake prone areas.