Within the "Forensic Disaster Analysis" various institutes of KIT and the Geoforschungszentrum Potsdam are working together on an interdisciplinary basis. The knowledge database to be developed in this subproject has a cross-sectoral task since several subprojects intend to use it. The knowledge database is a combination of existing and event-specific databases containing historical disasters such as earthquakes, floods, or extreme weather events. This allows further usage of analysis tools in the frame of CEDIM FDA. In particular, we focus on case-based reasoning which is a methodology that utilizes similar past events in order to draw conclusions about a new and to a large extent unknown event. The historical database can either be extended by experts or new cases over the course of time.
The first step towards a structured storage of historical data is the data modeling in particular the definition of attributes for the event description. Therefore we have to analyze how to compare two events and which attributes are relevant in this context. Moreover the required parameters containing information from past events that are most relevant for the current analysis have to be defined. The structure of the database will be flexible allowing different kinds of disasters to be covered. Additionally, a mathematical similarity function will be developed in order to retrieve similar events from historic data for using them in the new analysis. The generic approach of the knowledge database and the case-based reasoning application allows the shared use by all institutes working in the project.
Within the first year of the project the basic structure of the knowledge database and the similarity function will be defined. Subsequently the database will be developed and the retrieval step will be implemented. In the following years the algorithms will be enhanced and the database structure will be extended allowing further disaster types to be dealt with.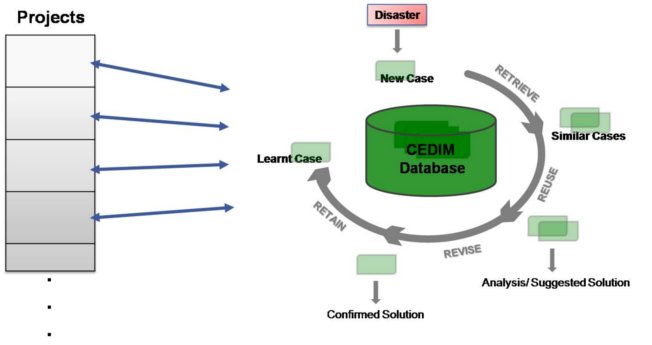 Pic. 1: The CEDIM database is a combination of existing databases and the methodology case-based reasoning provides an analysis support for other participating project partners. The CBR cycle illustrated is based on Aamodt and Plaza, Case-Based Reasoning: Foundational Issues, Methodological Variations, and System Approaches, 1994.